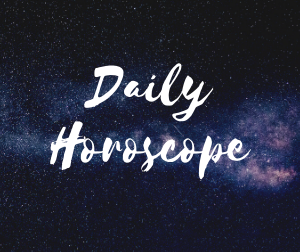 Aries 
Ingenuity could spark in your mind today, inspiring you to look to a new road for success. Whether you've been aiming for the same goal for some time now or are bouncing from task to task, a little bit of creativity can take you further than you might expect
Taurus 
You probably aren't one to shake the boat very often, but today you're being encouraged to show people a different side of yourself. Let everyone hear about your ideas, beliefs, or any of the myriad thoughts and opinions that make you unique. 
+Gemini 
A few shocks may jolt your system today, but that doesn't have to be a bad thing. It is, however, very likely to be surprising. As you float along at your own pace, anything could careen out of left field to make a play for your attention.
Cancer
People may play an important role in your life today — and a surprising one, as well. Uranus, the planet of the unexpected, is making waves in your social sector, 
+Leo
You may have slipped into a repetitive pattern lately without even realizing it. If life has begun to feel a little monotonous, then make an effort to step outside your usual schedule today and do something different.
Virgo 
This could be an incredibly lovely day for you! A pleasant beam from Uranus, the planet of surprise, will align with the emotional Moon in your passionate creativity sector. Your power and energy are homing in on the things that bring joy into your life. 
+Libra 
A family member or someone else sharing your home could bring something unexpected your way today. Happily, whatever happens will probably be to your advantage rather than anything to fear or hide from.
Scorpio
People may be buzzing about you like flies today. Instead of trying to shoo them away, do your best to attract as many as possible to you. There's a good chance that at least one of them will bring something promising and exciting your way! 
+Sagittarius  
Today is the perfect day to shake up your professional game plan for a fresh start, whether you've been plowing away at the same job for years now or bouncing around to new gigs with relative frequency.
Capricorn 
A nostalgic aura is coloring your thoughts at the moment, inspiring you to look back and recall something you really enjoyed doing as a child. Particularly if you haven't had the time to partake in this activity in a while, try to set aside some time now and do just that. 
+Aquarius 
You may try not to let other people's expectations impact you too much in general, given that you likely know yourself better than most. Still, that doesn't mean it's always easy to have such thick skin.
Pisces 
Regardless of what you had planned for today, life may have something else in store. It would be best to be as flexible as possible, reminding yourself that the more you try to control things, the more difficult it will be. 
# 5 12 17 23