Pleasant Home For The Holidays
With Pleasant Air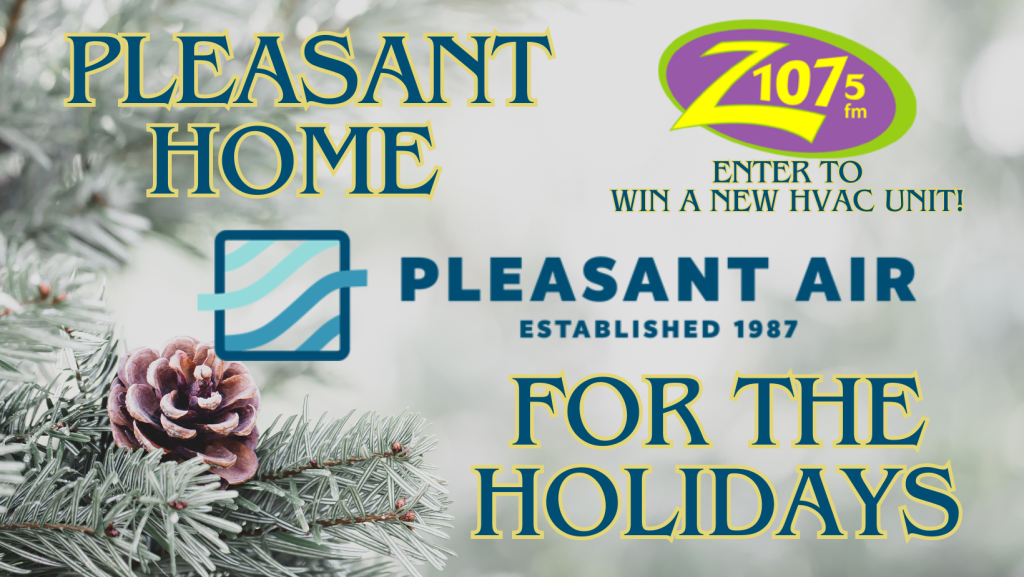 Z107.5 and Pleasant Air want to make a lucky listener's home extra "pleasant" this Holiday season! After tons of nominations, we've narrowed the field down to three! Read each finalist's story below and cast your vote for the family you think is most deserving of a brand new HVAC unit from Pleasant Air!
**Nominees must own the home, live in it as their primary residence, and have an HVAC system currently installed**
Voting open 12 am 11/17/2023 through 11:59 pm 11/26/2023
The Finalists:
The Braxton Family
Nominated by – Lowery, Brooklyn, Deb & Mary
Crystal Braxton has had 3 different cancers and undergone multiple surgeries. She has had to miss a lot of work causing a financial strain. This family is so loving and caring. They are really great people and it would be such a great help if this family could be helped out.
Crystal has been through three cancer surgeries. This has forced her to miss many days of work. The HVAC system in their family home has broken, and they cannot afford to fix it. It would be so helpful for the family to get another system. They are a great and deserving family.
My coworker Crystal has missed a lot of work because of cancer. Her HVAC no longer works and they are financially unable to replace it, she and her husband are hard workers and deserve a little help they have 2 children
Crystal has had 3 surgeries for cancer and is struggling financially. They have 2 children and their HVAC NEEDS REPLACED. It is not working. She has missed a lot of work because of her illnesses. Please consider this family.
The Fleuriet Family
Nominated by – The Mirek Family
This is the sweetest little family. They just had a new baby and they have a three-year-old as well. The father is a police officer for the Wilmington police department and the mother is a therapist. Their daycare bill is outrageous for two kids, and this is not a fancy frills daycare, they are stacking their workdays because they can only afford part-time for their kids. Between that and the rising cost of food and bills….they could really use some help with a new HVAC system. They have had theirs serviced several times and told they need to replace it however, they do not currently have the money to do so, so they keep paying to extend its life as long as possible. But the system could go out any day now, which would be terrible for their family's financial health. They are constantly of service to other families and their community. They have always shown up for my family day or night. I try and show up for them in any way I can, but we're in a similar boat. It would be really nice if somebody could show up for their family this holiday season. I know so many people who they have helped by being a friend, and community servants, and my family's life is better because they are in it, they are family and deserve this.
The Parker Family
Nominated by Laci Parker
My name is Laci and I have a three-year-old daughter, Finley, as well as 4 animals (two cats and two dogs). I was born and raised in Wilmington, at Cape Fear Hospital. Two months ago, my AC Unit stopped working. I had to pay someone $300 to come out and rig it to work. During this process, we realized my HVAC unit is TWENTY-FIVE years old! I, am currently going through a disability case due to a failed back surgery and have a mountain's worth of medical debt due to having three pulmonary embolisms, two DVTs, and cerebral venous thrombosis twice – all in the past 11 years and I'm only 34. I'm currently only able to work part-time right now, which barely covers our necessities. I'm so stressed that my system is going to die when it gets super cold this fall/winter. Please consider us, we would be so very thankful and I could really use a win for my family. Thank you for your generosity to our community.
Pleasant Home For The Holidays Finalists!
Vote below for who you think deserves a new HVAC system from Pleasant Air!
Z 107.5 Pleasant Home For The Holidays Sweepstakes
Official Rules
NO PURCHASE NECESSARY. OPEN TO PERMANENT U.S. RESIDENTS WHO ARE AT LEAST 18 YEARS OF AGE. VOID WHERE PROHIBITED OR RESTRICTED BY LAW. ALL FEDERAL, STATE AND LOCAL REGULATIONS APPLY.
1. HOW TO ENTER. You may enter by nominating your family, or another family to win the installation of a free Trane HVAC System [ARV$10,000]. Nominations must describe in detail why the nominated family is deserving of a new HVAC system. Nominations will be accepted between 12:00 am ET on 10/30/2023 and 11:59 pm ET on 11/09/2023 (the "Promotion Period"). Nominees must own the home, live in it as their primary residence and have an HVAC system currently installed. Entries that do not (a) meet the eligibility criteria, (b) are incomplete, illegible or corrupted, or (c) generated by a script, macro or other automated means will not be eligible.
2. SPONSOR. The sponsor of this sweepstakes is Sunrise Broadcasting, LLC d/b/a WAZO Z107.5 and Pleasant Air. This sweepstakes is not sponsored, endorsed, administered by, or associated with Apple or Facebook.
3. ELIGIBILITY. This sweepstakes is open only to homeowners (a) whose nominated address is their primary home (cannot be a rental that you live in or rent out), (b) who have an HVAC system currently installed in the primary home, (c) who reside in the WAZO Z107.5 total listening area as defined by Nielsen Audio, (d) are permanent U.S. residents, and (e) are 18 years of age as of 10/30/2023. Employees of Sponsor and its respective parent companies, subsidiaries, affiliates, officers, directors, agents, employees, advertising and promotion agencies and members of their immediate families (spouses, parents, children, and siblings and their spouses) are not eligible. Anyone who has won a prize valued over $100 from the Sponsor in the last 12 months is not eligible to enter or win this sweepstakes. By entering this sweepstakes, you acknowledge and agree to all of these Official Rules, and to be bound by all decisions of Sponsor, whose decisions are binding and final.
4. PRIZE AND ODDS. One (1) TRANE HVAC system [ARV $10,000] will be awarded. On 11/10/2023, WAZO staff will review nominations for eligibility and randomly select three finalists. The three finalists will be announced live on air on Z107.5 and on Z107.5's social media accounts at Noon ET on 11/13/2023. From 11/13/2023 through 11:59 pm ET on 11/19/2023 (the "Secondary Promotion Period"), WAZO listeners can read the nomination details of the three finalists on www.Z107.5.com and vote for their choice for the winner. You can only vote once per day per email address during the Secondary Promotion Period. Any additional entries during this time will be invalid. The finalist with the most listener votes during the Secondary Promotion Period will win the prize, and will be announced on Tuesday, 11/21/2023 during Z107.5's morning show, `Foz in the Morning Starring Michaela' and on Z107.5's social media pages. The grand prize winner will be notified by email or telephone using the contact information provided on the sweepstakes entry form and will be instructed regarding how to claim and obtain the prize. Prize is non-transferable and no substitution will be made except as provided herein at the Sponsor's sole discretion. The number of eligible entries received during the Promotion Period will determine the odds of winning the prize. Sponsor reserves the right to substitute the prize for one of equal or greater value if the designated prize should become unavailable for any reason. Winner is responsible for all taxes and fees associated with the receipt and/or use of the prize. Winner must sign and return to Sponsor a prize acknowledgment and publicity and liability release, as well as IRS form W-9: Request for Taxpayer Identification Number and Certification for any prize over $600.00 in total value. If any prize notification is undeliverable, or in the event of non-compliance with any of these requirements, the prize will be forfeited, and an alternate winner may be selected at random for all eligible entries.
5. RELEASE. By entering yourself or someone else for this sweepstakes, the entrant must agree to release and hold harmless Sponsor, its prize suppliers, affiliates, subsidiaries, and each of such company's officers, directors, employees, and agents (collectively, the "Released Parties") from and against any claim or cause of action, including, but not limited to, personal injury, death, or damage to or loss of property, arising out of participation in this sweepstakes or receipt or use or misuse of any prize. By checking the relevant box or selection on the entry form, entrant agrees that Sponsor may contact them via email with information, special content or features. An entrant may discontinue receiving such materials at any time by using the unsubscribe procedures contained in the email message.
6. PUBLICITY. Except where prohibited, participation in this sweepstakes constitutes a winner's consent to Sponsor's and its agents' use of winner's name, likeness, photograph, voice, opinions and/or hometown and state for promotional purposes in any media, worldwide, without further payment or consideration.
7. GENERAL CONDITIONS. Sponsor reserves the right to cancel, suspend and/or modify the sweepstakes, or any part of it, if any fraud, technical failures or any other factor beyond Sponsor's reasonable control impairs the integrity or proper functioning of the sweepstakes, as determined by Sponsor in its sole discretion. Sponsor reserves the right, in its sole discretion, to disqualify any individual it finds to be tampering with the entry process or the operation of the sweepstakes or to be acting in violation of these Official Rules or any other promotion or in an unsportsmanlike or disruptive manner. Sponsor reserves the right to change the Official Rules at any time to ensure the fair administration of the sweepstakes and compliance with applicable laws.
8. LIMITATIONS OF LIABILITY. The Released Parties are not responsible for: (1) any incorrect or inaccurate information, whether caused by entrant, printing errors or by any of the equipment or programming associated with or utilized in the sweepstakes; (2) unauthorized human intervention in any part of the entry process or the sweepstakes; (3) technical or human error which may occur in the administration of the sweepstakes or the processing of entries; or (4) any injury or damage to persons or property which may be caused, directly or indirectly, in whole or in part, from entrant's participation in the sweepstakes or receipt or use or misuse of any prize.
9. DISPUTES. Except where prohibited, entrant agrees that: (1) any and all disputes, claims and causes of action arising out of or connected with this sweepstakes or any prize awarded shall be resolved individually, without resort to any form of class action, and exclusively by the United States District Court for the Eastern District of North Carolina or the appropriate North Carolina State Court located in Wake County, North Carolina; (2) any and all claims, judgments and awards shall be limited to actual out-of-pocket costs incurred, including costs associated with entering this sweepstakes, but in no event attorneys' fees; and (3) under no circumstances will entrant be permitted to obtain awards for, and entrant hereby waives all rights to claim, indirect, punitive, incidental and consequential damages and any other damages, other than for actual out-of-pocket expenses, and any and all rights to have damages multiplied or otherwise increased. All issues and questions concerning the construction, validity, interpretation and enforceability of these Official Rules, or the rights and obligations of the entrant and Sponsor in connection with the sweepstakes, shall be governed by, and construed in accordance with, the laws of the State of North Carolina without giving effect to any choice of law or conflict of law rules (whether of the State of North Carolina or any other jurisdiction), which would cause the application of the laws of any jurisdiction other than the State of North Carolina.
10. WINNER LIST. Winner list requests will only be accepted after the Secondary Promotion Period and no later than [12/23/23]. For a copy of the winner list, send an email with subject line "Pleasant Home for the Holidays Winner List" to [email protected].